Beloved Internet Sensation Dead At Age 7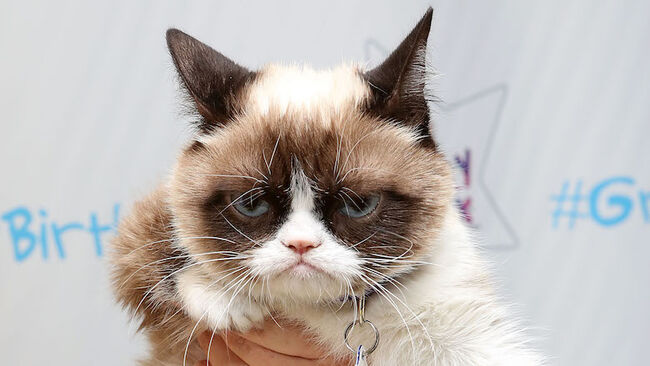 Grumpy Cat, the internet's beloved furball, has passed away.
The famous feline, who was just 7-years-old, died Tuesday (May 14) from due to complications from a urinary tract infection she contracted recently, according to a statement released on the meme star's Twitter account Friday morning (May 17).
"We are unimaginably heartbroken to announce the loss of our beloved Grumpy Cat. "Despite care from top professionals," the message states, Grumpy's illness "became too tough for her to overcome."
Grumpy, whose actual (lesser-known) name was Tardar Sauce, became a viral sensation in 2012 when the pet's frowning expression was captured in photographs shared across social media. The cat's sulky look, which her owner Tabitha Bundesen says is an effect of feline dwarfism and an underbite, was credited for helping "millions of people smile all around the world — even when times were tough."
With more than 3.5 million followers on Twitter and Instagram combined, Grumpy Cat's celebrity presented her with a full merchandise line, several television appearances, a Christmas film (2014's Grumpy Cat's Worst Christmas Ever), and even her own waxwork at several Madame Tussauds exhibits.
See how social media is mourning the loss of the internet's favorite kitty below.
Rest in Peace, Grumpy Cat
Photo: Getty Images