Photo: Getty Images/Chris Tuite
We kicked the holiday season into high gear on Friday (December 1) when our 2017 iHeartRadio Jingle Ball presented by Capital One at The Forum in Los Angeles brought major heavyweights like Taylor Swift, Ed Sheeran to the jam-packed affair. From covers of holiday classics to surprise performances, the festive affair was the perfect way to start the month of December and bring together music and funs.
If you missed out on all the action, consider this your holiday gift. You'll be able to relive the night on The CW during a special 90-minute broadcast on December 14th and 25th at 8 p.m. ET/PT -- so put on your Santa hats, grab some gingerbread cookies, and tune in. For now, take a look at some of the biggest moments of the night below!
Taylor Swift Performs Alongside Ed Sheeran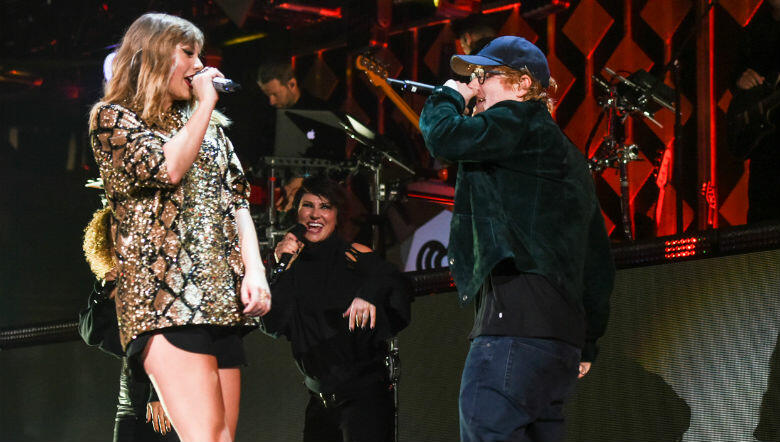 Photo: Chris Tuite for iHeartRadio
Taylor Swift shut down iHeartRadio Jingle Ball and brought out "End Game" collaborator and bestie Ed Sheeran while closing out the show. The reputation songstress also performed "…Ready For It?," "Blank Space," "Shake It Off," an acoustic version of "I Don't Want to Live Forever" and "Look What You Made Me Do." The highlight — hands down — was when she surprised concertgoers at the KIIS-FM hosted event by bringing out Ed, who opened the concert earlier in the evening. She first teased the crowd by telling them that if they were loud enough a friend of hers might come out.
Rocking a Hoax Skateboard shirt (which he invested in earlier this year) and with his guitar in-tow, Ed Sheeran needed absolutely no introductions as the opening performer of the evening. During the star-studded show, which was hosted by KIIS-FM, the 26-year-old kicked off the acoustic set with his nostalgic "Castle on the Hill." From there on, it was hit after hit with "Thinking Out Loud" and "Perfect," which he just re-released with Beyoncé. For the finale of his 20-minute set, he appropriately chose "Shape of You" and the sing-a-long chants from the sold-out audience proved that the lack of Grammy love (in major categories) doesn't necessarily impact the fact that this was one of 2017's biggest earworms.
Charlie Puth Spreads Festivity With "The Christmas Song"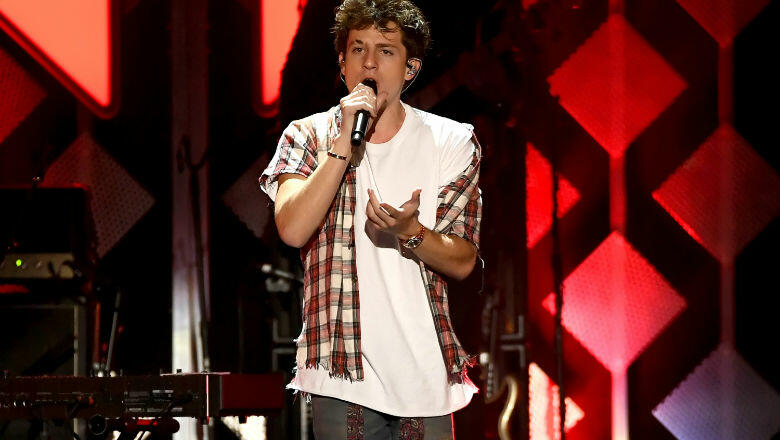 Photo: Getty Images
Charlie Puth knew that he had to inject some holiday festivity into his set with a cover of the timeless classic, "This Is Christmas." Elsewhere during the 20-minute set, which was presented by Bella Thorn and Patrick Schwarzenegger, the singer/songwriter treated the sold-out audience to his familiar smashes like opening song, "Attention," "How Long" and "One Call Away." However, no Charlie Puth set would really be complete without his biggest hit of all: "See You Again."
Halsey Slays Sexy "Strangers" Performance With Lauren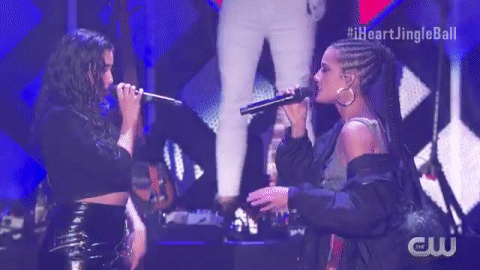 Not bad at this! Halsey hit the stage on Friday and performed a bevy of hits including a sexy rendition of "Strangers" with special guest and collab Lauren Jauregui. Halsey looked amazing in thigh-high boots, sequined hot shorts and a crochet bra top underneath her parka. Lauren opted for a black top and equally sexy leather miniskirt.
Halsey, who also performed "Bad At Love," "Now or Never," and "Colors" at the KIISFM hosted event, previously shared she chose Lauren to collaborate on the LGBT love song after she felt the track needed a little something else.
Liam Payne and Charlie Puth have been the two best friends that anyone could have recently, especially after having collaborated on Liam's new single "Bedroom Floor." During his performance, Liam paid tribute to his buddy by covering a little bit of one of his songs.
Liam kicked off his Jingle Ball performance with his debut solo single "Strip That Down," followed by his Zedd collab "Get Low." Then, he covered a little bit of Charlie's single "Attention," before performing their collaboration "Bedroom Floor."
It all comes full circle:
Now, we know Niall Horan has A LOT of fans ... and some of them do include celebs like Demi Lovato, and Charlie Puth. Demi was watching Niall backstage while he was performing for all the Niallers in the Jingle Ball crowd.
Demi was watching Niall backstage while he was performing for all the Niallers in the Jingle Ball crowd.
And Charlie was dancing to Niall's set as he prepared for his own.
There was also THIS heartwarming reunion.
Logic "Decks The Halls" With Speedy Bars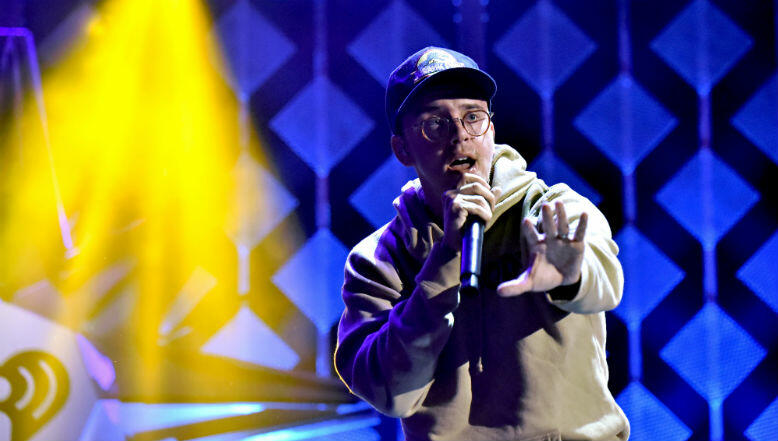 Photo: Getty Images
Leave it to Logic to sample the classic Christmas track, "Deck the Halls," elevate the timeless tune with speedy bars on "Fade Away" and bring both cuts to Friday night. After being presented by Elvis Duran, Sofia Carson, Bebe Rexha and Francia Raisa at the KISS-FM-hosted affair, the 27-year-old budding superstar kicked off his 15-minute set with the holiday medley. Backed by DJ Chase Marchetti, the multi-talent brought his flow and candid banter to The Forum. Elsewhere in his set, Logic ventured into his other cuts like "Everybody," "Black SpiderMan" and, of course, his breakout hit, "1-800-273-8255."
Kesha Revisits The Old & Shines On The New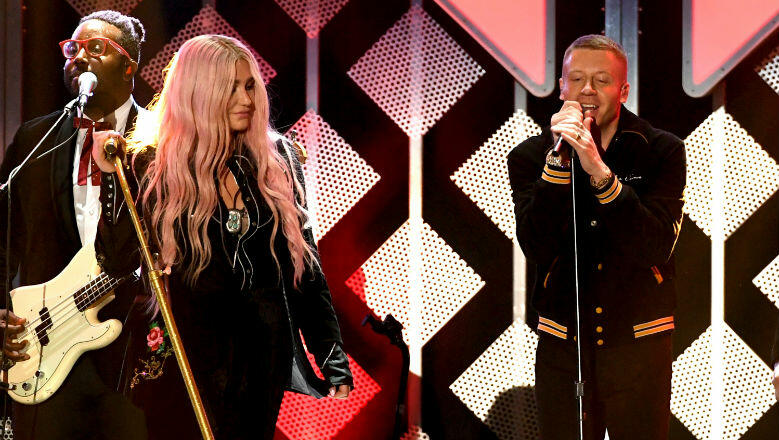 Photo: Getty Images
There's no arguing that Kesha can hold her own, but the pop star did surprise the audience at The Forum by inviting Macklemore to perform "Good Old Days" mid-set. Despite the extra star power, the pop star reminded the sold-out audience why she's the OG party pop star of the 2010s when she closed her set with her debut smash, "TiK ToK."
Not only did Demi Lovato bring Cheat Codes out during her set at our 2017 iHeartRadio Jingle Ball presented by Capital One, but the pop star also treated the sold-out audience to plenty of her hits and the KIIS-FM-hosted affair had Lovatics on Twitter in a frenzy.